The Levantine Institute of Lebanon offers many programs throughout the year (check the courses calendar section for a detailed terms calendar).
We also provide an Annual Program over three trimesters covering 720 hours of class combining MSA and Levantine Immersion.
Each session of teaching is 50 minutes.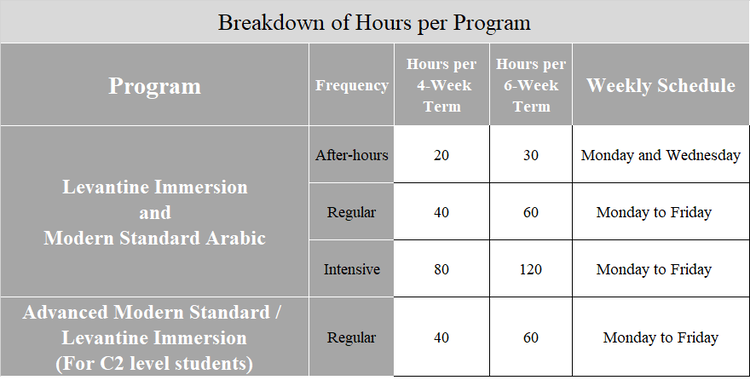 All courses are organized according to the internationally recognized CEFR (Common European Framework of Reference for Languages) official levels and regulations. To learn more about the levels, read this document.


Levantine Dialect
This course is tailored for anyone wishing to learn the Levantine Dialect and interact in the region, understand the culture, music, societies and get around with daily conversation.
The Levantine Dialect is similar to Modern Standard Arabic. We use a specific program tailored by our team which is context-oriented and topic-based, teaching everyday vocabulary to more complex subjects.
More Details


Modern Standard Arabic
If you're interested in strictly learning MSA, this program is the right one for you. The MSA program goes through all the steps of the learning process. All levels are accepted from complete beginners to C level students. Our curriculum follows a context and topic based approach which is intuitive and relies on everyday vocabulary for lower levels and more complex subjects as Society, History or Politics for higher levels.
More Details