In the sheet below you can find all information regarding our prices, if you need support from our team do not hesitate to send us an email.
If students cannot stay for a whole term, they can register for one, two or three weeks, as long as they start at the beginning of the term. In this case the price will be calculated accordingly.
Due to the increasing inflation and the fluctuation of the dollar rates in Lebanon, we were unfortunately forced to slightly increase our prices.

A 55$ registration fee has to be paid only once by the student with every new registration. It covers administration fees.
The payment for your courses is done in 2 parts at the LEVIT. You will first be required to transfer a deposit as written on your invoice. The second part of the payment has to be paid upon registration at the LEVIT, Please note that students who do not complete the payment at registration will not be allowed to enter class.
Please make sure that you chose the right program and pace, once registered you will not be able to transfer to another program within the same term. Please make sure to carefully read the cancellation policy of the LEVIT.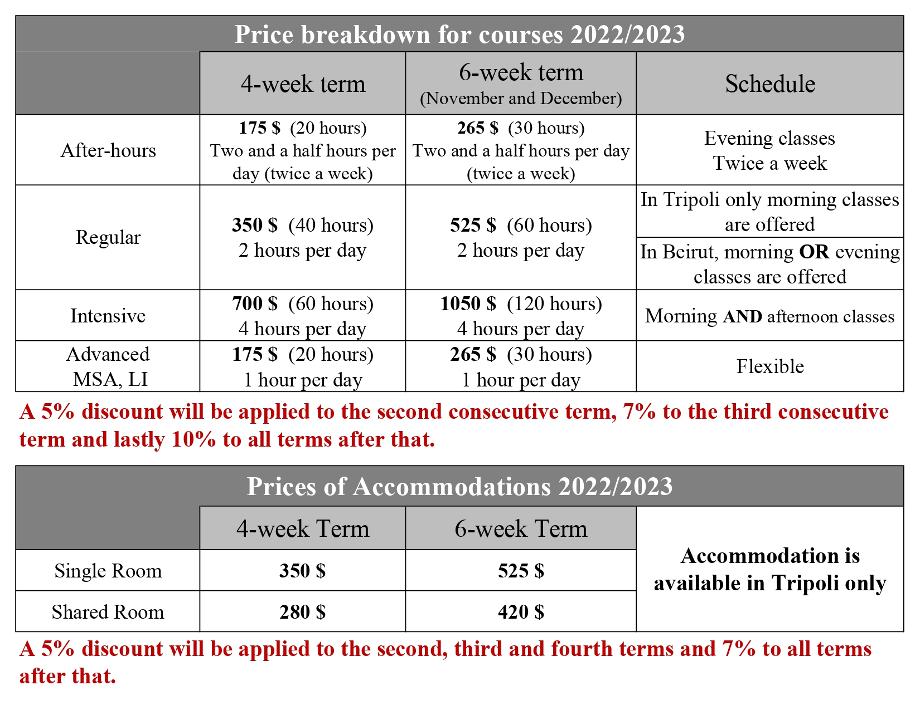 Private Lessons
Private lessons are available upon request all throughout the year with a fee of 20 US dollars an hour. Private classes take place at our premises.
Benefit from a discount when purchasing a bundle of hours :
Book 10 hours of private lessons for 19$ / Hour
Book 20 hours of private lessons for 18$ / Hour
Book 30 hours or more of private lessons for 17$ / Hour
Any private lessons booked must be completed within a certain deadline.
10 hours - 1 month | 20 hours - 2 months | 30 hours - 3 months
Level Assessment
If you wish to evaluate and determine your level in Arabic but aren't interested in joining our classes or book hours with us just yet, then you can apply for a personalized assessment by emailing us at info@levantineinstitute.com or by filling out our inquiry form.
The assessment includes an evaluation exam and a personalized interview with a written and an oral test depending on the applicant's level.
The cost of the assessment is 45$.

2. Returning Students

A 7% discount for Alumni students (Alumni students are any returning students who studied an entire term at the LEVIT in group classes Regular or Intensive and did not register for at least 2 terms after they finished)
Discounts are not cumulative and the highest rate will be applied.
3. Refund & Cancellation policy

Please read carefully the following before enrolling at the Levantine Institute of Lebanon, any requests to change classes/ programs/cancellation have to be done by email to info@levantineinstitute.com
Changing programs:
Once paid/started, it is not allowed to change from one program to the other, or change pace from Intensive to Regular. The programs being MSA, Levantine Immersion and Private Classes. Tuition is non transferable from one program to the other.
Cancellation of group classes:
30 days before the course starts, the registered student will get refunded the total amount paid to LEVIT less 15% administration fee as well as the banking fees.

From 30 days to 15 days prior to the beginning of the course, the student will get refunded 50% of the sum transferred for the course, however the price of the bank transfer will be deducted from his/her tuition fees. This applies to the total amount of the course booked at the LEVIT, from a term to a Trimester or the Annual Program.

Less than 15 days from the beginning of the course there will be no refund of the tuition fees for any reasons.

Refunds will be done only through the Original Mode of Payment.
Cancellation of private lessons:
Private lessons can be cancelled with no cancellation fees 14 days before the classes' starting date, a 15% administration fee will be applied as well as the banking fees.

If cancelled less than 14 days before the beginning of the classes, there will be no refund of the fees for any reasons.

No refund is possible once the classes have started.
Accommodation:
Cancellations done 30 days prior to the accommodation booking date, the student will get entirely refunded, a 15% administration fee will be applied as well as the banking fees.

Cancellations done less than 30 days to the accommodation booking date, no refund is possible for any reason.

If the deposit is not paid two weeks before the term starts, the accommodation will be automatically cancelled.
4. Online Payment

Privacy Policy
All credit/debit cards details and personally identifiable information will NOT be stored, sold, shared, rented or leased to any third parties.

The Website Policies and Terms & Conditions may be changed or updated occasionally to meet the requirements and standards. Therefore the Customers' are encouraged to frequently visit these sections in order to be updated about the changes on the website. Modifications will be effective on the day they are posted.
Terms

Any dispute or claim arising out of or in connection with this website shall be governed and construed in accordance with the laws of Lebanon.

Lebanon is our country of domicile.

Minors under the age of 18 shall are prohibited to register as a User of this website and are not allowed to transact or use the website.

If you make a payment for our products or services on our website, the details you are asked to submit will be provided directly to our payment provider via a secured connection.

We accept payments online using Visa and MasterCard credit/debit card in USD(or any other agreed currencies).
Delivery / Shipment Policy
www.levantineinstitute.com will NOT deal or provide any services or products to any of OFAC (Office of Foreign Assets Control) sanctions countries in accordance with the law of Lebanon..
Multiple transactions may result in multiple postings to the cardholder's monthly statement.
5. Group Classes
If the student is alone in the class and there are no other students with their same level, the number of total hours will be cut in half as they would be considered private classes.
The regular terms of 40 hours will be 20 hours instead while the intensive terms of 80 hours will be 40 hours instead.